Two pieces of .NET news recently:
Microsoft has published a .NET Core 2.1 roadmap and says:
We intend to start shipping .NET Core 2.1 previews on a monthly basis starting this month, leading to a final release in the first half of 2018.
.NET Core is the cross-platform, open source implementation of the .NET Framework. It provides a future for C# and .NET even if Windows declines.
Then again, StackOverflow has just published a report on the most sought-after programming languages in the UK and Ireland, based on the tags on job advertisements on its site. C# has declined to fourth place, now below Python, and half the demand for JavaScript: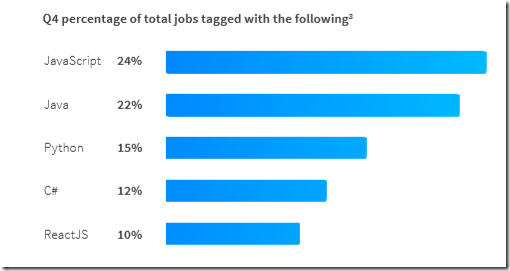 To be fair, this is more about increased demand for Python, probably driven by interest in AI, rather than decline in C#. If you look at traffic on the StackOverflow site C# is steady, but Python is growing fast: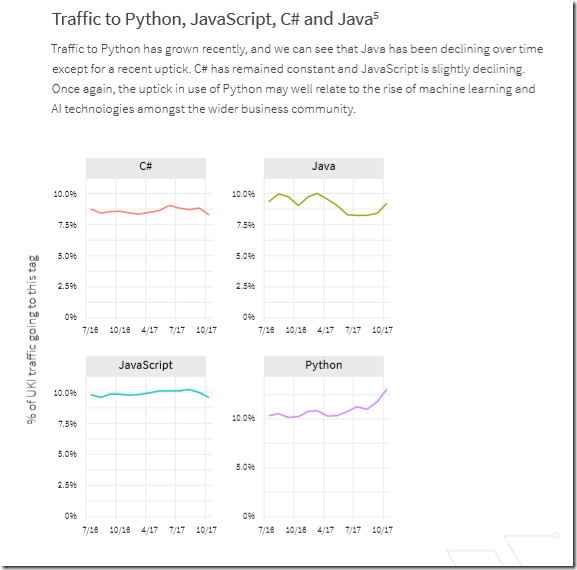 The point that interest me though is the extent to which Microsoft can establish .NET Core beyond the Microsoft-platform community. Personally I like C# and would like to see it have a strong future.
There is plenty of goodness in .NET Core. Performance seems to be better in many cases, and cross-platforms is a big advantage.
That said, there is plenty of confusion too. Microsoft has three major implementations of .NET: the .NET Framework for Windows, Xamarin/Mono for cross-platform, and .NET Core for, umm, cross-platform. If you want cross-platform ASP.NET you will use .NET Core. If you want cross-platform Windows/iOS/macOS/Android, then it's Xamarin/Mono.
The official line is that by targeting a specification (a version of .NET Standard), you can get cross-platform irrespective of the implementation. It's still rather opaque:
The specification is not singular, but an incrementally growing and linearly versioned set of APIs. The first version of the standard establishes a baseline set of APIs. Subsequent versions add APIs and inherit APIs defined by previous versions. There is no established provision for removing APIs from the standard.

.NET Standard is not specific to any one .NET implementation, nor does it match the versioning scheme of any of those runtimes.

APIs added to any of the implementations (such as, .NET Framework, .NET Core and Mono) can be considered as candidates to add to the specification, particularly if they are thought to be fundamental in nature.
Microsoft also says that plenty of code is shared between the various implementations. True, but it still strikes me that having both Xamarin/Mono and .NET Core is one cross-platform implementation too many.