A comment here points me to this comparison by Decebal Mihailescu of start-up times for processes on Windows using different runtimes: .NET in several versions, Java 1.6, Mono 2.6.4, and Visual C++ 2010 (native code).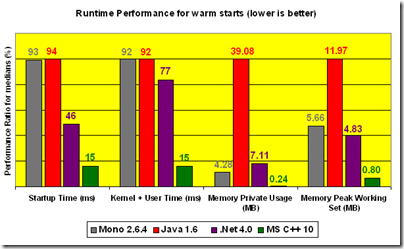 It is notable that native code is much faster than the runtimes, and that .NET is ahead of Java – to be expected, perhaps, since Windows is its native environment.
The test application is tiny and when we are talking about a time of less than a tenth of a second, users are unlikely to care much. I would like to see tests based on a larger application; on the other hand it becomes increasingly difficult to make a fair comparison.
It's a shame Embarcadero Delphi was not included, though I'd expect similar figures to those for Visual C++.
Start-up time is critical to perceived performance. One reason I use an ancient version of Paint Shop Pro for simple image manipulation is that I can double-click an image and be editing it instantly, whereas alternatives like Adobe PhotoShop or the free paint.net make me wait. Unless I need the extra features these provide, I stick with fast and simple.