When Microsoft first announced Azure, at its PDC Conference in October 2008, I was not impressed. Here is the press release, if you fancy a look back. It was not so much the technology – though with hindsight Microsoft's failure to offer plain old Windows VMs from the beginning was a mistake – but rather, the body language that was all wrong. After all, here is a company whose fortunes are built on supplying server and client operating systems and applications to businesses, and on a partner ecosystem that has grown up around reselling, installing and servicing those systems. How can it transition to a cloud model without cannibalising its own business and disrupting its own partners? In 2008 the message I heard was, "we're doing this cloud thing because it is expected of us, but really we'd like you to keep buying Windows Server, SQL Server, Office and all the rest."
Take-up was small, as far as anyone could tell, and the scene was set for Microsoft to be outflanked by Amazon for IaaS (Infrastructure as a Service) and Google for cloud-based email and documents.
Those companies are formidable competitors; but Microsoft's cloud story is working out better than I had expected. Although Azure sputtered in its early years, the company had some success with BPOS (Business Productivity Online Suite), which launched in the UK in 2009: hosted Exchange and SharePoint, mainly aimed at education and small businesses. In 2011 BPOS was reshaped into Office 365 and marketed strongly. Anyone who has managed Exchange, SharePoint and Active Directory knows that it can be arduous, thanks to complex installation, occasional tricky problems, and the challenge of backup and recovery in the event of disaster. Office 365 makes huge sense for many organisations, and is growing fast – "the fastest growing business in the history of the company," according to Corporate VP of Windows Server and System Center Brad Anderson, speaking to the press last week.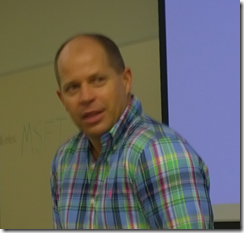 Brad Anderson, Corporate VP for Windows Server and System Center
The attraction of Office 365 is that you can move users from on-premise Exchange almost seamlessly.
Then Azure changed. I date this from May 2011, when Scott Guthrie and others moved to work on Azure, which a year later offered a new user-friendly portal written in HTML5, and Windows Azure VMs and web sites. From that moment in 2012, Azure because a real competitor in cloud computing.
That is only two years ago, but Microsoft's progress has been remarkable. Azure has been adding features almost as fast as Amazon Web Services (AWS – and I have not attempted to count), and although it is still behind AWS in some areas, it compensates with its excellent portal and integration with Visual Studio.
Now at TechEd Microsoft has made another wave of Azure announcements. A quick summary of the main ones:
Azure Files: SMB shared storage for Azure VMs, also accessible over the internet via a REST API. Think of it as a shared folder for VMs, simplifying things like having multiple web servers serve the same web site. Based on Azure storage.
Azure Site Recovery: based on Hyper-V Recovery Manager, which orchestrates replication and recovery across two datacenters, the new service adds the rather important feature of letting you use Azure itself as your space datacenter. This means anyone could use it, from small businesses to the big guys, provided all your servers are virtualised.
Azure RemoteApp: Remote Desktop Services in Azure, though currently only for individual apps, not full desktops
Antimalware for Azure: System Center Endpoint Protection for Azure VMs. There is also a partnership with Trend Micro for protecting Azure services.
Public IPs for individual VMs. If you are happy to handle the firewall aspect, you can now give a VM a public IP and access it without setting up an Azure endpoint.
IP Reservations: you get up to five IP addresses per subscription to assign to Azure services, ensuring that they stay the same even if you delete a service and add a new one back.
MSDN subscribers can use Windows 7 or 8.1 on Azure VMs, for development and test, the first time Microsoft has allows client Windows on Azure
General availability of ExpressRoute: fast network link to Azure without going over the internet
General availability of multiple site-to-site virtual network links, and inter-region virtual networks.
General availability of compute-intensive VMs, up to 16 cores and 112GB RAM
General availability of import/export service (ship data on physical storage to and from Azure)
There is more though. Those above are just a bunch of features, not a strategy. The strategy is based around Azure Active Directory (which everyone gets if they use Office 365, or you can set up separately), Office, and mobile.
Here is how this works. Azure Active Directory (AD), typically synchronised with on-premise active directory, is Microsoft's cloud identity system which you can use for single sign-on and single point of control for Office 365, applications running on Azure, and cloud apps run by third-parties. Over 1200 software as a service apps support Azure AD, including Dropbox, Salesforce, Box, and even Google apps.
Azure AD is one of three components in what Microsoft calls its Enterprise Mobility Suite. The other two are InTune, cloud-based PC and device management, and Azure Rights Management.
InTune first. This is stepping up a gear in mobile device management, by getting the ability to deploy managed apps. A managed app is an app that is wrapped so it supports policy, such as the requirement that data can only be saved to a specified secure location. Think of it as a mobile container. iOS and Android will be supported first, with Office managed apps including Word, Excel, PowerPoint and Mobile OWA (kind-of Outlook for iOS and Android, based on Outlook Web Access but delivered as a native app with offline support).
Businesses will be able to wrap their own applications as managed apps.
Microsoft is also adding Cordova support to Visual Studio. Cordova is the open source part of PhoneGap, for wrapping HTML and JavaScript apps as native. In other words, Visual Studio is now a cross-platform development tool, even without Xamarin. I have not seen details yet, but I imagine the WinJS library, also used for Windows 8 apps, will be part of the support; yes it works on other platforms.
Next, Azure Rights Management (RMS). This is a service which lets you encrypt and control usage of documents based on Azure AD users. It is not foolproof, but since the protection travels in the document itself, it offers some protection against data leaking out of the company when it finds its way onto mobile devices or pen drives and the like. Only a few applications are fully "enlightened", which means they have native support form Azure RMS, but apparently 70% of more of business documents are Office or PDF, which means if you cover them, then you have good coverage already. Office for iOS is not yet "enlightened", but apparently will be soon.
This gives Microsoft a three-point plan for mobile device management, covering the device, the applications, and the files themselves.
Which devices? iOS, Android and Windows; and my sense is that Microsoft is now serious about full support for iOS and Android (it has little choice).
Another announcement at TechEd today concerns SharePoint in Office 365 and OneDrive for Business (the client), which is getting file encryption.
What does this add up to? For businesses happy to continue in the Microsoft world, it seems to me a compelling offering for cloud and mobile.