Microsoft financials are hard to parse these days, with figures broken down into broad categories that reveal little about what is succeeding and what is not.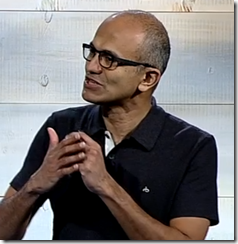 CEO Satya Nadella speaks in San Francisco
At a cloud platform event yesterday in San Francisco, CEO Satya Nadella and VP of cloud and enterprise Scott Guthrie offered some figures. Here is what I gleaned:
Projected revenue of $4.4Bn if current trends continue ("run rate")
Annual investment of $4.5Bn
Over 10,000 new customers per week
1,200,000 SQL databases
Over 30 trillion storage objects
350 million users in Azure Active Directory
19 Azure datacentre regions, up to 600,000 servers in each region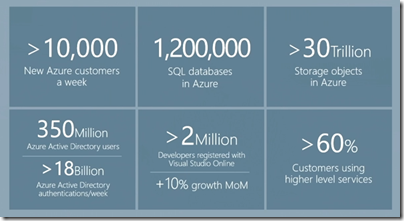 Now, one observation from the above is that Microsoft says it is spending more on Azure than it is earning – not unreasonable at a time of fast growth.
However, I do not know how complete the figures are. Nadella said Office 365 runs on Azure (though this may be only partially true; that certainly used to be the case); but I doubt that all Office 365 revenue is included in the above.
What about SQL Server licensing, for example, does Microsoft count it under SQL Server, or Azure, or both depending which marketing event it is?
If you know the answer to this, I would love to hear.
At the event, Guthrie (I think) made a bold statement. He said that there would only be three vendors in hyper-scale cloud computing, being Microsoft, Amazon and Google.
IBM for one would disagree; but there are huge barriers to entry even for industry giants.
I consider Microsoft's progress extraordinary. Guthrie said that it was just two years ago that he announced the remaking of Azure – this is when things like Azure stateful VMs and the new portal arrived. Prior to that date, Azure stuttered.
Now, here is journalist and open source advocate Matt Asay:
Microsoft used to be evil. Then it was irrelevant. Now it looks like a winner.
He quotes Bill Bennett
Microsoft has created a cloud computing service that makes creating a server as simple as setting up a Word document
New features are coming apace to Azure, and Guthrie showed this slide of what has been added in the last 12 months: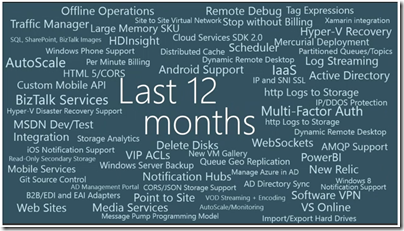 The synergy of Azure with Visual Studio, Windows Server and IIS is such that it is a natural choice for Microsoft-platform developers hosting web applications, and Azure VMs are useful for experimentation.
Does anything spoil this picture? Well, when I sat down to write what I thought would be a simple application, I ran into familiar problems. Half-baked samples, ever changing APIs and libraries, beta code evangelised by Microsoft folk with little indication of what to do if you would rather not use this in production, and so on.
There is also a risk that as Azure services multiply, working out what to use and when becomes harder, and complexity increases.
Azure also largely means Windows – and yes, I heard yesterday that 20% of Azure VMs run Linux – but if you have standardised on Linux servers and use a Mac or Linux for development, Azure looks to me less attractive than AWS which has more synergy with that approach.
Still, it is a bright spot in Microsoft's product line and right now I expect its growth to continue.