I have just completed a test installation of Microsoft's Dynamics CRM on-premises; it is now called Dynamics 365 but the name change is cosmetic, and in fact you begin by installing Dynamics CRM 2016 and it becomes Dynamics 365 after applying a downloaded update.
Microsoft's Dynamics product has several characteristics:
1. It is fantastically useful if you need the features it offers
2. It is fantastically expensive for reasons I have never understood (other than, "because they can")
3. It is tiresome to install and maintain
I wondered if the third characteristic had improved since I last did a Dynamics CRM installation, but I feel it has not much changed. Actually the installation went pretty much as planned, though it remains fiddly, but I wasted considerable time setting up email synchronization with Exchange (also on-premises). This is a newish feature called Server-Side Synchronization, which replaces the old Email Router (which still exists but is deprecated). I have little love for the Email Router, which when anything goes wrong, fills the event log with huge numbers of identical errors such that you have to disable it before you can discover what is really going wrong.
Email is an important feature as automated emails are essential to most CRM systems. The way the Server-Side Synchronization works is that you configure it, but CRM mailboxes are disabled until you complete a "Test and Enable" step that sends and receives test emails. I kept getting failures. I tried every permutation I could think of:
Credentials set per-user
Credentials set in the server profile (uses Exchange Impersonation to operate on behalf of each user)
Windows authentication (only works with Impersonation)
Basic authentication enabled on Exchange Web Services (EWS)
All failed, the most common error being "Http server returned 401 Unauthorized exception." The troubleshooting steps here say to check that the email address of the user matches that of the mailbox; of course it did.
An annoyance is that on my system the Test and Enable step does not always work (in other words, it is not even tried). If I click Test and Enable in the Mailbox configuration window, I get this dialog: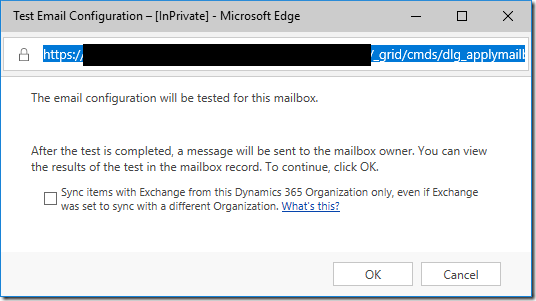 However if I click OK, nothing happens and the dialog stays. If I click Cancel nothing happens and the dialog stays. If I click X the dialog closes but the test is not carried out.
Fortunately, you can also access Test and Enable from the Mailbox list (select a mailbox and it appears in the ribbon). A slightly different dialog appears and it works.
I was about to give up. I set Windows authentication in the server profile, which is probably the best option for most on-premises setups, and tried the test one more time. It worked. I do not know what changed. As this tech note (which is about server-side synchronization using Exchange Online) remarks:
If you get it right, you will hear Microsoft Angels singing
But what's this about sloppy? There is plenty of evidence. Things like the non-functioning dialog mentioned above. Things like the date which shows for a mailbox that has not been tested:

Or leaving aside the email configuration, things like the way you can upload Word templates for use in processes, but cannot easily download them (you can use a tool like the third-party XRMToolbox).
And the script error dialog which has not changed for a decade.
Or the warning you get when viewing a report in Microsoft Edge, that the browser is not supported: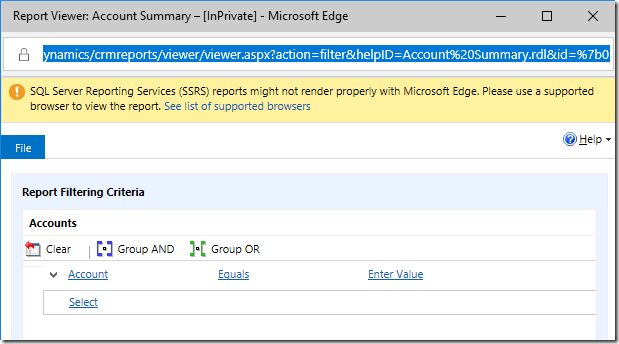 so you click the link and it says Edge is supported.
Or even the fact that whenever you log on you get this pesky dialog: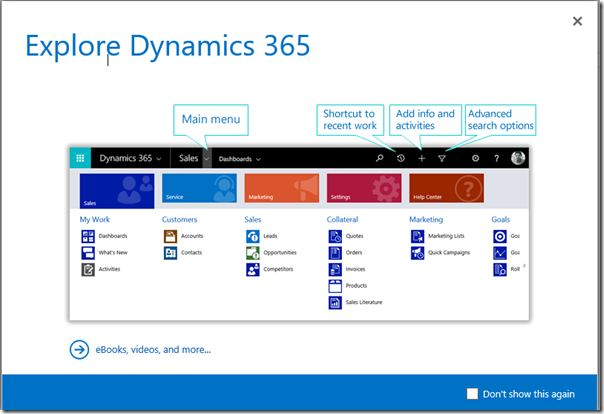 So you click Don't show this again, but it always reappears.
It seems as if Microsoft does not care much about the fit and finish of Dynamics CRM.
So why do people persevere – in fact, the Dynamics business is growing for Microsoft, largely because of Dynamics 365 online and its integration with Office 365. The cloud is one reason, which removes at least some of the admin burden. The other thing though is that it does bring together a set of features that make it invaluable to many businesses. You can use it not only for sales and marketing, but for service case management, quotes, orders and invoices.
It is highly customizable, which is a mixed blessing as your CRM installation becomes increasingly non-standard, but does mean that most things can be done with sufficient effort.
In the end, it is all about automation, and can work like magic with the right carefully designed custom processes.
With all those things to commend it, it would pay Microsoft to work at making the user interface less annoying and the administration less prone to perplexing errors.