Yesterday Microsoft's Joe Belfiore (phone VP) and Scott Guthrie (developer VP) took the stage at the Mix 2011 conference in Las Vegas to tell us what is new with Windows Phone.
The opening part of the keynote was significant. Belfiore spent some time talking about the "update situation".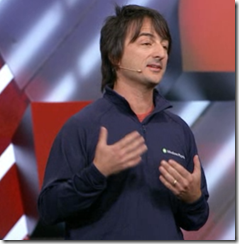 This is all to do with who controls what ends up on your phone. If you buy a Windows PC or laptop, you can get updates from Microsoft using Windows update or by downloading service packs; the process is between you and Microsoft.
Not so with Windows Phone. The operators have a say as well; and operators are not noted for delivering speedy OS updates to users. Operators seem to have difficulty with the notion that by delivering strong updates to existing devices that have already been purchased, they build user loyalty and satisfaction. They are more geared to the idea of delivering new features with new hardware. Updating existing phones can cause support calls and other hassles, or even at worst bricked devices. They would rather leave well alone.
When Microsoft launched Windows Phone it announced that there would be regular updates under Microsoft's control; but this has not been the case with the first update, codenamed "NoDo". The update process has been delayed and inconsistent between operators, just like the bad old days of Windows Mobile.
Belfiore went on about testing and phones being different from PCs and improvements to the process; but in the end it seems to me that Microsoft has given in:
Mobile operators have a very real and reasonable interest in testing updates and making sure they're going to work well on their phones and on their network. Especially if you think about large operators with huge networks, they are the retailer who sells the phone, so they have to deal with returns, they take the support calls and they have to worry about whether their network will stay up and perform well for everyone … From our point of view, that's quite reasonable, and our belief and understanding is that it's standard practice in the industry that phones from all different vendors undergo operator testing before updates are made available.
That "testing" label can cover any amount of prevarication. It appears that Microsoft is unable to achieve what Apple has achieved: the ability to update its phone OS when it wants to. That is a disadvantage for Microsoft and there is no sign of improvement.
More positively, Microsoft announced a number of significant new features in the first major update to the OS, codenamed Mango. This is for existing devices as well as new ones, though new devices will have enhanced hardware. He focused on what matters for developers, and hinted that there will be other end user features. A few bullet points:
Internet Explorer 9 is on Mango – "The same exact code that has just shipped and is now getting installed on tons and tons of PCs is the code base that will be on the phone" said Belfiore. No, it is not built in Silverlight.
Limited multitasking for third-party apps. This is in the form of "Live agents" which run in the background. Full apps cannot multitask as I understand, though they can be suspended in memory for fast switching. Currently apps appear to do this but it is faked; now it will be for real, with the proviso that a suspended app may get shut down if its memory is needed by the OS.
Multiple live tiles for a single app.
Fixed marketplace search so that music does not appear when you search for an app.
Apps can register with search so that Bing searches can integrate with an app.
There will be a built in SQL Server CE database with programmatic access using Linq (Language Integrated Query).
Full TCP/IP socket support
Access to raw camera data for interesting imaging applications or barcode  processing
1,500 new APIs in Mango
Performance improvements including a better garbage collector that apparently gives a significant boost
Improved tools with the ability to simulate GPS on the emulator, capture performance trace log from phone
It adds up to a decent update, though more Window Phone 7.5 than Windows Phone 8 (I do not know what the official name will be). Belfiore also mentioned new apps coming to Windows Phone 7, including Spotify, Skype and Angry Birds.
But what was not said? Here are a few things I would like to have heard:
When will get Adobe Flash on Windows Phone? Not mentioned.
What about Silverlight in the browser? You would think this would be easy to implement; but I have not seen it confirmed (let me know if you have news).
When will Nokia ship Windows Phone devices? Nokia's Marco Argenti appeared on stage but said nothing of substance.
The Mango update is coming "in the fall" but when will current users get updates?
Will Windows Phone 8 move away from Windows CE to full Windows, so the same OS will work across phone, tablets and desktop PCs?
Above all, I would like convincing news about how Microsoft intends to get Windows Phone better exposure and fuller support from operators. I still hardly see it in retailers, and it seems a long way down the list when you talk to a salesperson about what new phone you should buy. I do not have a Windows Phone at the moment, but when I tried it for a  couple of weeks I mostly liked the user interface – I found the soft buttons on the Mozart annoying because they are easy to press accidentally – and I also like the developer tools, though I would like to see a native code development option. In the end though, it is no use developing for Windows Phone if your customers are asking for Apple iOS and Google Android.
Microsoft shared the following figures:
12,000+ apps
35,000 registered developers
1.5 million tool downloads
It is a start, but these are not really big numbers, and the proportion of tool downloaders that end up delivering apps seems small so far.
A lot rests on the Nokia partnership and how that plays out.
It now appears that we will need to wait until September and the newly announced PDC (Professional Developers Conference) in Anaheim 13th-16th September before we learn more about the long-term mobile strategy.
Update: Microsoft's Phil Winstanley tells me that the Windows Phone OS is just called "Windows Phone" regardless of version; but that the Mango update is referred to as "Windows Phone OS 7.5" when it is necessary to differentiate. If that sounds confusing, do not blame me!