I was not able to attend the press conference for Windows Phone 7 in person but watched the live webcast from New York. I was unconvinced by the phrase "Always delightful, wonderfully mine" which formed the basis of Microsoft CEO Steve Ballmer's lead-in, but it got better.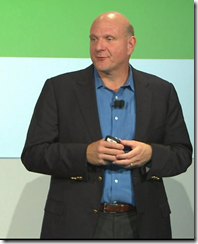 Corporate VP Joe Belfiore did a live demo, explained how the team had aimed to simplify the phone and make it where possible seem one step ahead of the user, predicting the information you would want or the next step you wish to take. He also spent some time on enterprise features, especially Office and Exchange integration, which interested me as there is some ambiguity in how Microsoft is positioning the launch devices; consumer is the focus yet business-oriented features keep cropping up.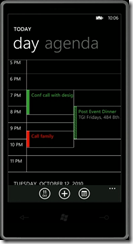 One of the 5 HTC phones announced today is the HTC 7 Pro which has a keyboard and seems mainly aimed at business users.
Ralph de la Vega from AT&T said that his company will offer Windows Phone 7 from November 8th in USA, initially from LG, but with  with 3 devices – LG, HTC, Samsung – available a few weeks later.
Belfiore's demo looked good, despite a couple of failures from which he made a good recovery. He announced that the much-discussed Copy and Paste feature, which will be absent from the first release, will come as an automatic update early in 2011.
He also spent some time on the Xbox Live integration, which is one feature that is distinctive to Windows Phone 7 and strikes me as a smart move. A couple of XNA games were demoed and look good, one called Ilo and Milo that uses the accelerometer: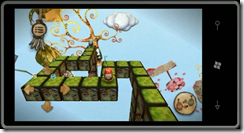 and a familiar one from EA, The Sims: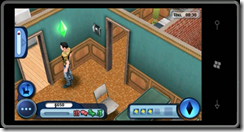 The best part of Microsoft's launch though was not in the USA but in the UK. Celebrity Stephen Fry, known for his love of all things Apple, got up and and praised the phone.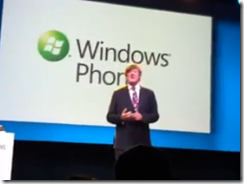 The BBC's Rory Cellan-Jones caught some of this on video, and I am going to quote extensively because it touches on something I've been tracking for years: Microsoft's belated recognition of the importance of design:
I made no secret of my dislike of Microsoft over many years. I did think that analogy of a building site, of a Sixties grey office, is essentially what the environments they were making then were. Whatever I may think of this device (and I'm going to come to that in a moment) I think we can all admire the humility which which Microsoft have admitted to the fact that they now, I think, get it. They get the fact that all human beings whether they work in enterprise or in small businesses or are self employed, are human beings first.

You don't judge the machines you use or the houses you live in or the offices where you work, simply by listing their functions. The first thing you do as a human being, whether you work for a large office or a small one, is say how you feel about it.

…

What I was always excited by when Apple produced things and then when HTC and other OEMs started making fascinating and enjoyable Androids, and even when RIM came out with the Torch, I felt pleasure using them. These are things, we carry them around at all times and our lives flow through and out of them. And the first feeling we should have is one of delight, so when I heard Mr Ballmer use the word "delight" I thought, oh what joy there is in heaven when a sinner repents. Because let's be frank, Microsoft were grey, they were featureless, they did concentrate so much on enterprise and tickboxes for function, that they forgot that even the greyest number-cruncher in the corporation is a human being first, a father, a husband, a mother, a daughter, whatever, and that their experiences are based on feeling and emotion.

So when they did send me one of these about a week or so ago – I've got a few of them, and I'm not being paid – my first feeling was that it was just fun to play with. And I know that's childish, but isn't that how you think of cars and many other things we spend our lives doing? That it's fun to drive. Yes you want it to be economical, yes you want it to get from A to B, yes you want various things.

…

People buy things because they feel that emotional engagement, they feel the pleasure of using it. I have felt enormous pleasure using this phone. Yes, because I'm not a paid spokesman, because I'm not any kind of spokesman for Microsoft, I can say that it has deficiencies; but then that was the thing about the iPhone that everybody felt, people who had Windows Mobile 5, as it then was, they laughed to scorn the iPhone when it arrived because it didn't have all these functions. But if you remember the tedious horror of drilling down through the menus just to get a wireless connection, on an old WinMob phone, you will understand that it wasn't about that, people embraced the iPhone because it was simple, it was closed, it was clear.

Now the closed environment is something you're all going to be speaking about, the ecosystem, you're all going to be speaking about how it positions itself against RIM and it positions itself, crucially, against the iPhone and the Android, and that's a decision that only the market and the next year can make.
He added on Twitter:
Some will call me traitor, but I was pleased to stand on stage ad welcome Windows Mobile 7 into the world. Used it for a week. Like it.
This was a great PR coup for Microsoft, but more important, it shows the impact of something I wrote about in 2008: Bill Buxton's arrival at Microsoft and his work to introduce design-consciousness to Microsoft and its OEMs:
Everybody in that food chain gets it now. Everybody's motivated to fix it. Thinking about the holistic experience is much easier now than it was two years ago. What you're going to see with Mobile 7 is going to give evidence of progress.
I thought the launch was good enough to make people want to try this phone; and considering Microsoft's current position in the market that is a good result for the company.