I have been enjoying Elden Ring on the Xbox but not so much when my controller broke. I recall the same thing happening with Dark Souls. Maybe it's the way I play, but the problem is that the right bumper is used for a quick attack, which I use constantly. The bumpers seem to be less robust than the triggers, so after a while it breaks.
Fortunately the current Xbox controllers (I have a Carbon Black) are easy to fix. The hardest part is getting the textured panels off the controller handles; like so many modern electronics cases, these are a press fit and have to be levered off while trying not to break or scratch them. Then you undo two screws each side using a Torx T8 security screwdriver and another screw under the label in the battery compartment. Then you can carefully remove first a central rear panel and next the rear bumpers.
This revealed the problem: a small plastic tab had broken.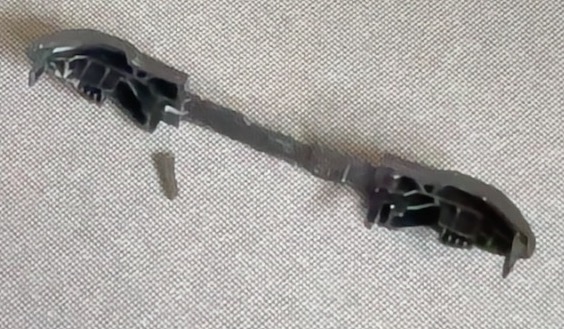 Gluing the tab back probably would not last long; but fortunately compatible bumper parts are available for a few pounds on eBay. I bought two (one for next time) and everything is fine.