I have a Surface Pro, first version, still a reasonable spec with Core i5 and 4GB RAM, though the 128GB SSD is too small and a frustration.
Still, Microsoft hardware, Windows 8.1 installed and in good shape, Windows 10 upgrade will be a breeze?
Now, I know there is an ISO route that would probably work but I decided to wait for the upgrade to arrive via Windows Update since I have yet to see this run successfully. In due course the GWX (Get Windows 10) update sprang to life and said my upgrade was ready.
Note that in anticipation of the big day I had freed over 10GB of disk space which should be enough, right?
The upgrade failed though.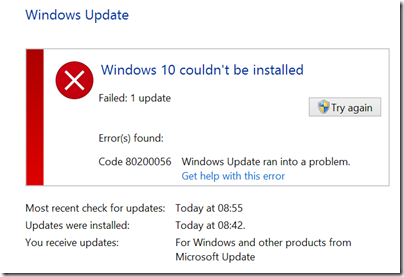 Well, I understand that things go wrong sometimes; but note that Microsoft has not seen fit to give us any log entries to give a clue about what might be going wrong, just an error code and a useless link that leads to generic Windows Update troubleshooting tips.
I did try a few things. Freeing more disk space. Resetting Windows Update. The famous sfc /scannow beloved of generic forum respondents. I was rewarded for my efforts with a variety of different error codes but the same outcome.
Now my Surface is mocking me. Every time I boot up, I get the little pop up assuring me that my upgrade is ready. Every time I shutdown I am am invited to "update and restart", the machine attempts to install Windows 10, and then again it fails.
I guess I should get the message: this is not going to work.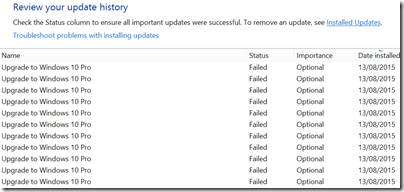 Again, I know there is an ISO route and I guess I will have to use it; but while I am not really surprised, it is disappointing that even on first-party hardware the automatic upgrade is so problematic.
Postscript
I am not sure what changed, but I tried the update again a couple of days ago and it worked. This is the first time I have successfully upgraded a PC to Windows 10 via Windows Update.