I had some free time following the NVIDIA GPU Technology conference and wandered up to the Valley Fair mall in San Jose. I took a quick look at the Apple store, there was really nothing for me to see in terms of new product but it has a kind of "bees round a honeypot" appeal.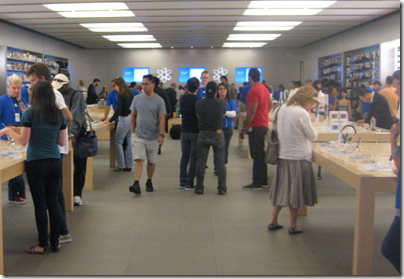 Next I went along to the Sony Style store, another strong brand you might think: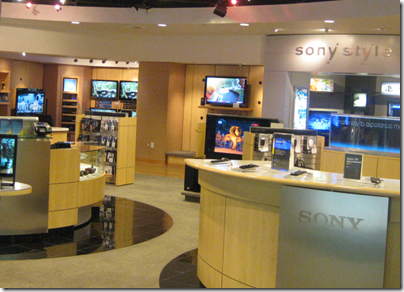 Clearly this is a social story as well as a technical story but it is significant.
The Sony store was actually more interesting to me since the PlayStation 3 Move was on display and I had not had an opportunity to try it before. A helpful assistant gave me a demo; we were going to play 2-player table tennis but there was a technical issue with one of the controllers so I ended up playing solo. In conjunction with the huge screen in the Sony store it was a very passable imitation of the real thing. Although it is well done it does not feel like a revolution in the way the Wii did when it first appeared – you may recall that the pre-release Wii was code-named "Revolution".
Adding Move to your PS3 setup is somewhat expensive – you will probably want two controllers as well as the Eye camera – and there are not yet many games which support it, but I reckon it will be a lot of fun. Playing Table Tennis one of the best aspects was the ability to rush forward for a forehand slam.
The Sony guy admitted to being curious about the Microsoft Xbox Kinect which is coming out in a couple of months, and does away with the controller completely. He said Microsoft is opening a store in San Francisco and plans to go up to take a look in due course.
A question: which of the above two pictures will the new Microsoft store most resemble?