I am just back from IFA 2014 in Berlin, perhaps the nearest European equivalent to CES in Las Vegas though smaller, less frenetic, and benefiting from the pleasant environment of Berlin in early autumn in place of Vegas glitz.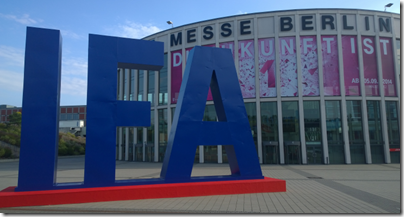 On the eve of a major Apple event, IFA 2014 was a chance for the non-Apple tech world to impress. That said, neither Google nor Microsoft bothers to exhibit at IFA; they rely on partners to show off the products which use their stuff. The biggest exhibitor from what I could tell was Samsung, or possibly Sony which also had a huge presence.
Google subsidiary Nest did not have a stand either, though co-founder and VP of engineering Matt Rogers did give a keynote, in place of CEO Tony Fadell who is recovering from an accident. It was an odd keynote, with little new content other than the announcement of Nest device availability in Belgium, France, Ireland and the Netherlands (they are already in the US, Canada and the UK).
The Nest keynote was memorable though for this remark:
We know neighbours have to earn your trust. We should too. Buying a Nest device is a lot like trusting us with a set of keys.
A smart thermostat or smoke alarm is like a set of keys? Not really. I may be reading too much into this, but what if Nest were to move into home security? How about a security system that recognized you? Might Nest/Google one day literally have the power to unlock your door?
My main interests at IFA are computing, mobile and audio; but I also slipped into the Siemens-Electrogeräte press conference, showing off smart ovens and coffee machines. It was worth it to hear General Manager Roland Hagenbucher explain that "Home is where your app is", describing new app control and monitoring for Siemens smart kitchens. The question: if we need an app to turn on the oven, what are the implications for mobile operating systems?
The answer is that if the apps you need are not available for a particular mobile device, it is a significant barrier to adoption. This is the difficulty for Windows Phone, for which Microsoft held a press event in Berlin last week, launching three new phones, the mid-range Lumia 830 and budget 730 (Dual Sim) and 735. Microsoft also presented an OS update code-named "Denim", also known as Windows Phone 8.1 Update 1. Key features include a new, faster camera app; voice activation for Cortana (just say "Hey Cortana"); and the ability to organise app tiles into folders. Oh, and not forgetting the Microsoft Screen Sharing for Lumia Phones HD-10 – the little device with the long name.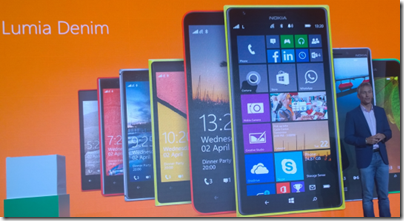 The devices look decent and there are some good things in Windows Phone; the OS itself is smooth, the Cortana digital assistance has exceeded my expectations, the prices are reasonable, and there are thoughtful touches like the detachable NFC connection coaster on the HD-10. All it lacks is momentum, and achieving that under the shadows of Android and Apple is a huge challenge.
That said, I spoke to Dan Dery, VP and CMO at Alcatel OneTouch, who told me of the company's plans for Windows Phone OS tablets. Which is all very well, but raises questions about the flood of new Windows 8 tablets, in sizes as small as the 7" Encore Mini from Toshiba, on show at IFA.
Intel showed off its new Pentium M CPU, based on the Broadwell architecture, optimized for low power (4.5w), small size (14nm processor) and cool (no fan). In a keynote Intel also talked up the drive for wireless computing, one facet of which is the Rezence Alliance for Wireless Power. Rezence has some powerful names on its members list, including Asus, Broadcom, Canon, Dell, Lenovo, Qualcomm, Samsung and Sony. Then again, many of those companies are also members of the rival Wireless Power Consortium which backs the Qi standard, used by Nokia/Microsoft. However, in the wireless power wars I would not bet against Intel (let's see which way Apple jumps with the iWatch).
There were countless new Android phone launches at IFA. The challenge here is differentiation; every company says its devices are innovative, but few really are. What you get for your money is constantly improving though; I cannot remember handling any smartphones that seemed really poor, which was not the case a couple of years back.
Amazon launched its FireTV video streamer in Europe; I had a brief hands-on and wrote a piece for Guardian Technology. I liked it; it is well-designed for a specific purpose, searching for and streaming a video from Amazon's Prime Instant Video service. It does also run apps and games (there is an optional games controller) but what will sell it, for those that give it a chance, is voice search through the Bluetooth-connected remote. I veer towards sceptical when it comes to voice search, but this is a perfect use case: pick up the remote and speak into it, rather than wrestling with a living room keyboard or pecking out letters with an on-screen keyboard. With Amazon it is all about the subscription though; the aim of FireTV is to get you hooked on Prime (fast delivery as well as instant video). It is less attractive if you prefer an alternative service, though it is a good specification for the price.
Wearables were everywhere at IFA and it seemed every press conference included a watch or fitness tracker announcement (or both) – many Android, but Alcatel OneTouch made the point that its watch was lower power and faster because it does not use Android.
Acer: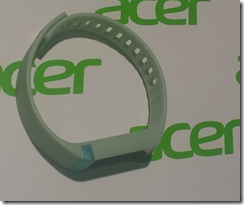 Asus: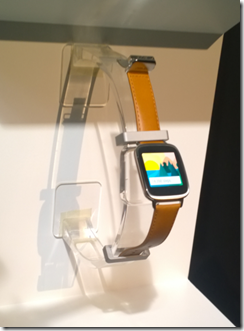 Alcatel OneTouch: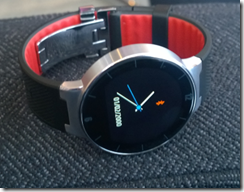 Sony: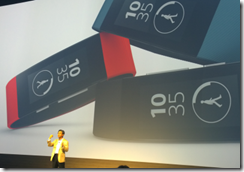 and so on. There does seem to be a lot of "because we can" in these devices, though some use cases do make sense, such as rejecting a call by tapping your wrist, or getting notifications. Is that worth a device which needs charging once a week (my watch has a 10 year battery life)? How much do we really want to track our fitness, and what do we do when health insurance companies get hold of this data and only want to insure the best risks?
Philips showed off its Android TV: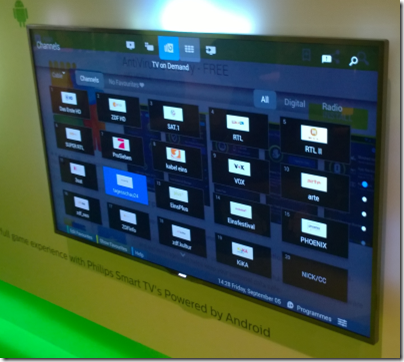 While bundling Android into a TV set may seem to make sense, the problem is that you will probably want to keep the TV long after the Android part has gone out of date. Another problem – well, spot the background message at the top of this screen: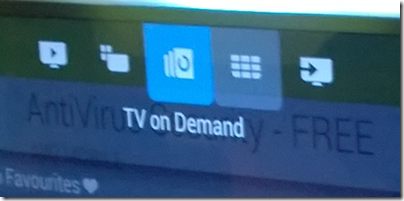 Yes, it says AntiVirus Security – FREE. Just what you always wanted in your TV.
I also took a good look/listen at the audio on display. I will post separately on Gadget Writing; but the most significant thing I spotted (ha!) is the advent of Spotify Connect (this is from Yamaha).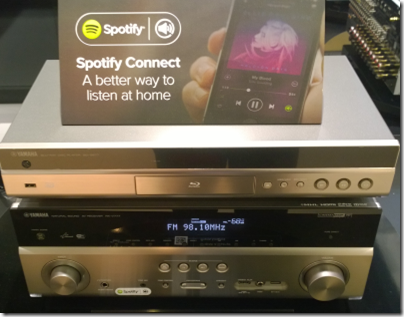 The idea is that with a Spotify subscription along with Spotify Connect devices (each device must be Spotify Connect certified) you can choose what to play and where from your Spotify app, and enjoy smart features like your playlist continuing unbroken when you move from kitchen to living room to car. No chance versus Apple/Beats you might think; but look how far Spotify has come, thriving as Apple clung too long to its file download model (see here for why files are over).