That the abbreviation UX can appear in a book title without expansion says a lot about the extent to which user-focused design is now embedded in the web development industry. The theory behind it is that User Experience is primary when designing a web site. The word "experience" suggests that this is not just about usability, or attractiveness, or performance, or enjoyment, but rather about all those things and how they combine when the end user is navigating your site.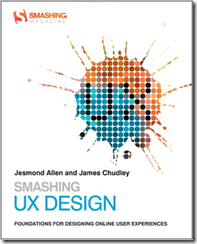 This book is for professional designers who want techniques for putting UX design into practice. The authors, Jesmond Allen and James Chudley, work for UX consultancy Cxpartners, based in Bristol in the UK, and the book is written from their perspective, including tips on how to work with your clients. That said, this is an excellent read even if you do not fall into that niche, thanks to the expertise and professionalism which informs the content.
There is a note right at the start of the book about the interaction between development and design teams which seems to me of key importance:
In order to produce designs that development teams can utilize, it is helpful for UXers to understand the development process they will be using. As external consultants, we do not always have the opportunity to work with development teams on a daily basis as they create a functional product from our designs, although we always strive to make ourselves available to developers as they work. Internal UX staff will likely have a much closer relationship with their development teams.

…

Some developers may see UX activities as troublesome big design up front. However, UX activities contribute to requirements gathering and backlog prioritization activities. These activities typically take place long before development sprints begin.

…

In order to produce robust products, it is important that UX research and design activities take place throughout the design and build cycle, whether it is product managers, UXers, or developers who perform the activities.
The emphasis is mine. A bad scenario, for example, runs like this. The project is initiated and handed to a design team, who come back with good-looking sketches and mock-ups. The developers then implement the design, but discover that it does not quite work as-is, maybe because the designers did not appreciate every nuance of the workflow, or because of evolving new requirements, or performance problems, or any number of other issues.
At this point the developers may endeavour to match the not-quite-working design as closely as possible, blaming shortcomings on the "bad design". Or they may adapt the design to work better technically, potentially wrecking the design concept and delivering something which users will perceive as odd. This scenario is more likely to occur when budgets are particularly constrained and the design team external.
Note that Agile methodology has always emphasized that the team is the whole team – stakeholders, developers, designers, users, everyone – so it makes sense to keep designers involved right through the process. Put another way, do not allocate a design budget and spend it all up-front, before development begins.
It all comes down to communication, respect and understanding between team members, which is why this book is one that developers as well as designers should read.
Be clear: this is not a book about technology, so look elsewhere (perhaps to one of the other Smashing titles) if you want help with making beautiful web pages using CSS, or a how-to guide for building web sites. Smashing UX Design is about the process rather than the outcome, though there are plenty of practical tips along the way.
The book is in four parts. Part one is a general introduction to the concepts behind UX design and planning UX projects. Part two covers tools and techniques for UX research and evaluation, such as running requirements workshops, usability tests, surveys, analytics, and expert reviews.
The third part is about tools and techniques for UX design. If you are wondering what an Ideation Workshop is, you will find out how to run one here. Another technique described is how to create a "user persona", a fictional user who represents a category of users. There is also a discussion of wireframes, sketches and prototypes.
Finally, the fourth part looks in more detail at UX design for specific site pages, including the home page, search, product pages, shopping carts, images and tables. This is the section of most general interest, being full of practical suggestions and thought-provoking comments on what makes web pages work well for the user.
There is a too-brief chapter on mobile UX and this is a weakness of the book: not much on how tablets and smartphones are impacting UX design.
If you run or plan to run a web design business, then the book is perfect. It is also a great read for professional web developers. Individuals who are doing their own web design, or just want to understand it better, will find good content here but also a rather jargon-heavy style and probably more information than they need about working with clients and running workshops of various kinds.