This year's Microsoft TechEd is subtitled Cloud Power: Delivered, and sky blue is the theme colour. Microsoft seems to be serious about its cloud play, based on Windows Azure.
Then again, Microsoft is busy redefining its on-premise solutions in terms of cloud as well. A bunch of Windows Servers on virtual machines managed by System Center Virtual Machine Manager (SCVMM) is now called a private cloud – note that the forthcoming SCVMM 2012 can manage VMWare and Citrix XenServer as well as Microsoft's own Hyper-V. If everything is cloud then nothing is cloud, and the sceptical might wonder whether this is rebranding rather than true cloud computing.
I think there is a measure of that, but also that Microsoft really is pushing Azure heavily, as well as hosted applications like Office 365, and does intend to be a cloud computing company. Here are three side-questions which I have been mulling over; I would be interested in comments.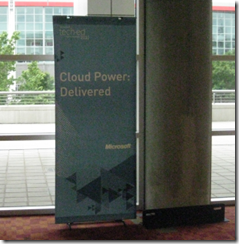 Microsoft gets Azure – but does its community?
At lunch today I sat next to a delegate and asked what she thought of all the Azure push at TechEd. She said it was interesting, but irrelevant to her as her organisation looks after its own IT. She then added, unprompted, that they have a 7,000-strong IT department.
How much of Microsoft's community will actually buy into Azure?
Is Microsoft over-complicating the cloud?
One of the big announcements here at TechEd is about new features in AppFabric, the middleware part of Windows Azure. When I read about new features in the Azure service bus I think how this shows maturity in Azure; but with the niggling question of whether Microsoft is now replicating all the complexity of on-premise software in a new cloud environment, rather than bringing radical new simplicity to enterprise computing. Is Microsoft over-complicating the cloud, or it is more that the same necessity for complex solutions exist wherever you deploy your applications?
What are the implications of cloud for Microsoft partners?
TechEd 2011 has a huge exhibition and of course every stand has contrived to find some aspect of cloud that it supports or enables. However, Windows Azure is meant to shift the burden of maintenance from customers to Microsoft. If Azure succeeds, will there be room for so many third-party vendors? What about the whole IT support industry, internal and external, are their jobs at risk? It seems to me that if moving to a multi-tenanted platform really does reduce cost, there must be implications for IT jobs as well.
The stock answer for internal staff is that reducing infrastructure cost is an opportunity for new uses of IT that are beneficial to the business. Staff currently engaged in keeping the wheels turning can now deliver more and better applications. That seems to me a rose-tinted view, but there may be something in it.