Embarcadero has announced a world tour to promote its forthcoming XE3 development suite.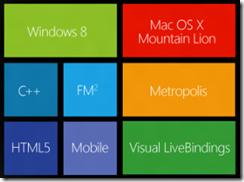 But what is in it? No details yet, but a few clues:
Windows 8 "look and functionality" for VCL and FireMonkey apps
A new edition of the FireMonkey cross-platform framework, called FM2
A new tool called HTML5 Builder.
There are a few more clues in a leaked PDF document on what is new in Delphi and C++ Builder XE3. This refers to "full support of the Windows 8 Metro user interface" and describes new project wizards for "VCL Metro Desktop Application" and "FireMonkey Metro Desktop Application".
Since "Desktop" normally means non-Metro in a Windows 8 context, this phrase is puzzling, making me wonder if the tool will build apps that look and feel like Windows Runtime apps, but really are not. That would be unsatisfactory, because features like Contracts and Live Tiles only work with real Windows Runtime apps. Or is Embarcadero is planning full Metro support and is distinguishing from mobile apps.
There are also changes in FireMonkey to add support for Actions, Anchors, and Layout managers. Sensor and gesture support will be important for Windows 8 apps.
Finally there will be a SQLite database driver in XE3.
All the above, save the tour announcement, is unofficial and may be wrong or subject to change. I doubt the Metro name will feature so prominently in the eventual release, for example. And Metropolis?
Update
Looking at the wording here seems to confirm suspicions that Delphi and C++ Builder are not getting true Windows Runtime support:
Create Delphi, C++Builder and Prism applications with Windows 8 styling and functionality
Create HTML5 web apps and mobile apps for Android, iOS and more with new HTML5 Builder
Build Windows 8 apps with WinRT using Prism XE3 in RAD Studio
Otherwise, why would Embarcadero state "WinRT" for Prism but not for Delphi and C++ Builder?