I watched Microsoft CEO Steve Ballmer give the last in a long series of Microsoft keynotes at the Consumer Electronics Show in Las Vegas.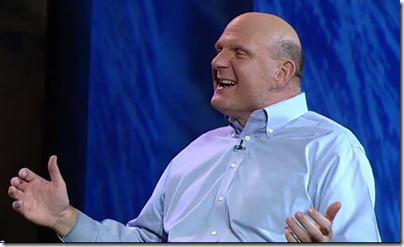 There were three themes: Windows Phone, Windows 8, and Xbox with Kinect. It was a disappointing keynote though, mainly because of the lack of new news. Most of the Windows Phone presentation could have been from last year, except that we now have Nokia involvement which has resulted in stronger devices and marketing. What we have is in effect a re-launch necessitated by the failure of the initial launch; but the presentation lacked the pizzazz that it needed to convince sceptics to take another look. That said, I have enjoyed using Nokia's Lumia 800 and still believe the platform has potential; but Microsoft could have made more of this opportunity. A failed voice demo did nothing other than remind us that voice control in Windows Phone is no Apple Siri.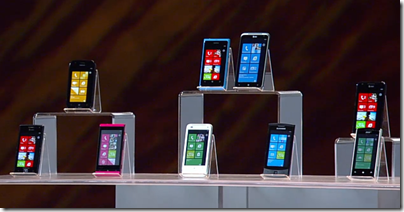 What about Windows 8? Windows Chief Marketing Officer Tami Reller gave a presentation, and I was hoping to catch a glimpse of new stuff since the preview at last year's BUILD conference. There was not much though, and Reller was using the same Samsung tablet as given to BUILD delegates. We did get a view of the forthcoming Windows Store that I had not seen before: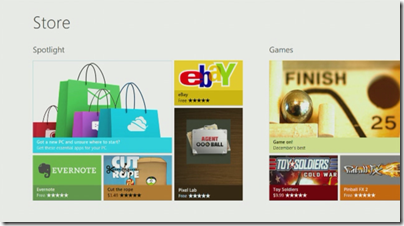 Reller mainly showed the Metro interface, in line with a general focus on Metro also emphasised by Ballmer. She talked about ARM and said that Metro apps will run on both Intel and ARM editions of Windows 8; notably she did not say the same thing about desktop apps, which implies once again that Microsoft intends to downplay the desktop side in the ARM release.
Reller also emphasised that Windows 8 Metro works well on small screens, as if to remind us that it will inevitably come to Windows Phone in time.
Windows 8 looks like a decent tablet OS, but the obvious questions are why users will want this when they already have iOS and Android, and why Microsoft is changing direction so dramatically in this release of Windows? The CES keynote was a great opportunity to convince the world of the merits of its new strategy, but instead it felt more as if Microsoft was ducking these issues.
Xbox and Kinect followed, and proved firmer ground for the company, partly because these products are already successful. There was a voice control demo for Xbox which worked perfectly, in contrast to the Windows Phone effort. We also heard about Microsoft's new alliance with News Corporation, which will bring media including Fox News and the Wall Street Journal to the console. We also saw the best demo of the day, a Sesame Street interactive Kinect game played with genuine enthusiasm by an actual child.
Microsoft unveiled Kinect for Windows, to be released on 1st February, except that there was not much to say about it. Amazon.com has the product available for pre-order, and there was more to be learned there.
The new product  retails at $249.99, compared to $149 for the Xbox version, but seems little different. Here is what the description says:
This Kinect Sensor for Windows has a shortened USB cable to ensure reliability across a broad range of computers and includes a small dongle to improve coexistence with other USB peripherals. The new firmware enables the depth camera to see objects as close as 50 centimeters in front of the device without losing accuracy or precision, with graceful degradation down to 40 centimeters. "Near Mode" will enable a whole new class of "close up" applications, beyond the living room scenarios for Kinect for Xbox 360.
I imagine hackers are already wondering if they can get the new firmware onto the Xbox edition and use that instead. Kinect for Windows does not come with any software.
What is the use of it? That is an open question. Potentially it could be an interesting alternative to a mouse or touch screen, face recognition could be used for personalisation, and maybe there will be some compelling applications. If so, none were shown at CES.
I am not sure of the extent of Microsoft's ambitions for this first Windows release of Kinect, but at $249 with no software (the Xbox version includes a game) I would think it will be a hard sell, other than to developers. If wonderful apps appear, of course, I will change my mind.