I am not a regular at CES, the huge trade consumer technology fair in Las Vegas, but well recall my last visit, in 2014. I did the usual round of press conferences from various technology vendors, but reserved some time towards the end of my stay for the high-end audio rooms at the Venetian, one of the more civilized hotels in Vegas despite the fake canals.
There was plenty of activity there, floor upon floor of exhibitors showing all kinds of audio exotica, from cables thicker than your arm to amplifiers that would test the strength of your flooring. Of course there was plenty of audio on the main CES exhibits as well, but my observation at the time was that while the mainstream manufacturers like B&W and Sony had good sounds at relatively affordable prices, the crazy folk in the Venetian did achieve the best sonics, if you closed your eyes to the wild theories and bank-busting prices.
I was ushered into a room to hear a preview of Naim's Statement amplifiers and heard a sound that was "muscular, etched and authoritative", no less than it should be at £150,000 for a set.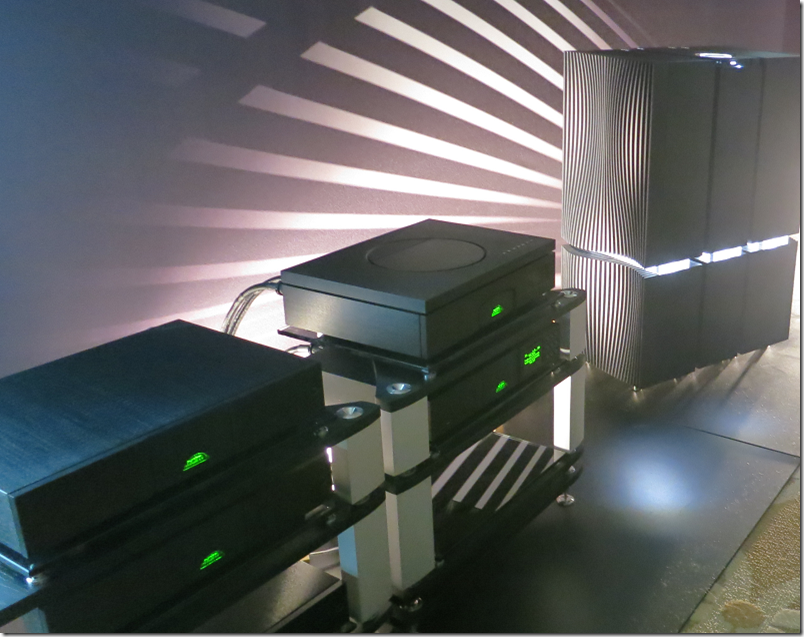 It appears that memories will now be all we have of the these great days in the Venetian. Last year CEPro reported:
Maybe the writing was on the wall last year at CES 2017 when two of the suites in the high-performance area were occupied by AARP and Serta Mattress. The running joke among attendees was the elderly audiophiles there could take a nap and check in on their retirement status while listening to audio …. "This is the end of high-performance audio at CES," said one exhibitor bluntly.
This year it has played out more or less as expected:
The impact of the high-fidelity corner of CES was certainly diminished by any standard. Actual listening rooms were reduced to a single hallway, with some stragglers to be found a few floors upward.
says AudioStream.
The word is that High-End Munich has replaced CES to some extent; but this is not just a matter of which industry show is more fashionable. You only have to look around you at a hi-fi shows to note that these enthusiasts are mostly an older generation. The future does not look good.
There is no decline in music appreciation, so what is wrong? There are several factors which come to mind.
The first and most important is that technology has made high quality audio cheap and ubiquitous. Plug a decent pair of headphones into the smartphone you already have, and the quality is already more than satisfactory for most listeners. Spend a bit on powered wireless speakers and you can get superb sound. In other words, the excellent performance of mainstream audio has pushed the high-end market into a smaller and smaller niche.
The industry has also harmed itself by seemingly embracing every opportunity for hype, regardless of what science and engineering tell us. Exotic cables, digital resolutions beyond anything that human ears can hear, unwarranted fuss about jitter or mysterious timing issues (MQA anyone?), and more.
In the meantime, the music companies have done their best to make high resolution audio even more pointless by excessive dynamic range compression engineered into the music they release, wasting the fantastic dynamic range that is now possible and even on occasion introducing audible distortion.
I became an audio enthusiast when I heard how much I was missing by using mainstream budget equipment. I recall listening sessions in hi-fi shops where I was stunned by the realism, musicality and detail that was to be heard from familiar records when played back on high-end systems.
Such experiences are less likely today.