Imagine you are a customer of Microsoft's Office 365 service, including a subscription to the Office desktop applications like Word, Excel and Outlook.
One day you click on the shortcut for Word, but instead of opening, it just shows a "Starting" splash screen which never progresses.
Being smart, you try to start Word in safe mode by holding down the Ctrl key, but the exact same thing happens.
Annoying, when you want to do your work. What is going on?
I took a look at a case like this. Two things you should do (after the usual reboot):
1. Look in the event viewer. Here, I found a clue that the issue is related to software activation, specifically Event 2011 "Office Subscription Licensing exception":

2. For all things related to Office licensing, open a command prompt, go to (for example) C:\Program Files (x86)\Microsoft Office\Office16, and type:
cscript ospp.vbs /dstatus
In this case I got the following: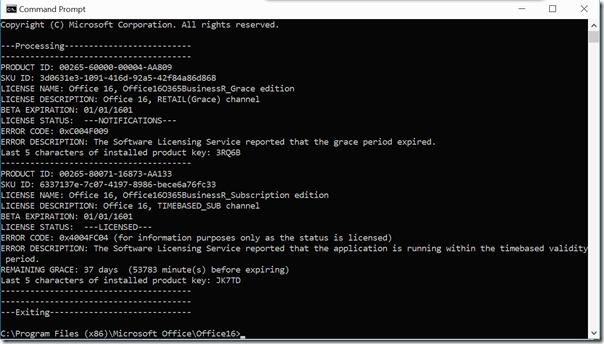 This told me that Windows thinks TWO product keys for Office are installed. One has expired, the other is fine.
The guilty party may (or may not) be the trial version of Office typically pre-installed with a new PC. Or it could be a consequence of changing your Office 365 subscription. Neither would be the fault of the user, who is fully licensed and has done nothing other than follow Microsoft's normal procedures for installing Office 365.
Solution: we reinstalled Office from the Office 365 portal, and attempted to remove the dud product key with:
cscript ospp.vbs /unpkey:<Last five characters of product key>
as explained here. All is well for the moment.
This kind of thing drives me nuts though. Activation and subscription license checking is for the benefit of the vendor, not the user, and should never get in the way like this.
Further, cannot Microsoft find some way of informing the user when this happens, and not have Word simply hang on starting? How difficult is it to check for licensing and activation issues, and throw up a message?