When Nokia acquired Trolltech back in 2008, it made perfect sense as a way of supporting development on Symbian, its smartphone operating system, and nudging the Qt project, which provides a cross-platform framework for native applications, more towards mobile rather than just desktop application support. It also made sense as Nokia worked on Maemo and then Meego, its Linux for mobile project.
Then came February 2011 and CEO Stephen Elop's announcement that Nokia would partner with Microsoft and make Windows Phone its primary smartphone operating system. Windows Phone 7 does not support native code development, other than by operators, manufacturers, and of course Microsoft itself. What future for Qt at Nokia now?
Here at Blackberry Devcon Europe, Nokia's Lars Knoll, Qt Chief Maintainer, has been introducing Qt to Blackberry developers. Qt forms a critical part of RIM's Blackberry 10 (BBX) platform, based on the PlayBook tablet OS and set to come to Blackberry phones later this year. The Cascades UI framework, for hardware-accelerated 2D and 3D rendering on BBX, uses Qt core and an adaption of QML (Qt Modeling Language). You can use Qt with or without Cascades on BBX.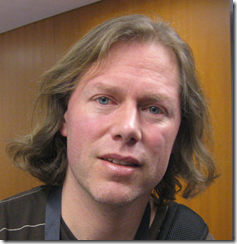 Given that Nokia makes mobile devices which are in competition with RIM's devices, it may seem odd that Nokia is supporting Qt on Blackberry. I asked Knoll about the status of Qt within Nokia following the move to Windows Phone.
There's not too much I can say right now. The only thing I can repeat is that we're still investing in Qt. We're actually hiring more people to work on Qt. Qt is an essential part of the strategy for the next billion. That's all I can say right now, but stay tuned, in time you'll hear more.
He added later that Nokia is in business to make money; in other words, there are strong business reasons for Nokia to continue with Qt. The "next billion" reference refers to Nokia's stated intention to bring apps to the next billion.
One possibility is that Qt will in fact support a future version of Windows Phone. It is already clear that Windows Phone 8 will use the same kernel as Windows 8 and we can expect a unified development platform build on the Windows Runtime (WinRT), which does support native code development.
It is not too much of a stretch then to expect a future Qt framework that will target Windows Phone and Windows 8 tablets. Nokia's Elop has also hinted that it is interested in Windows tablets as well as phones in future.