Audirvana Plus, an audiophile music player for the Mac, has now been released for Windows.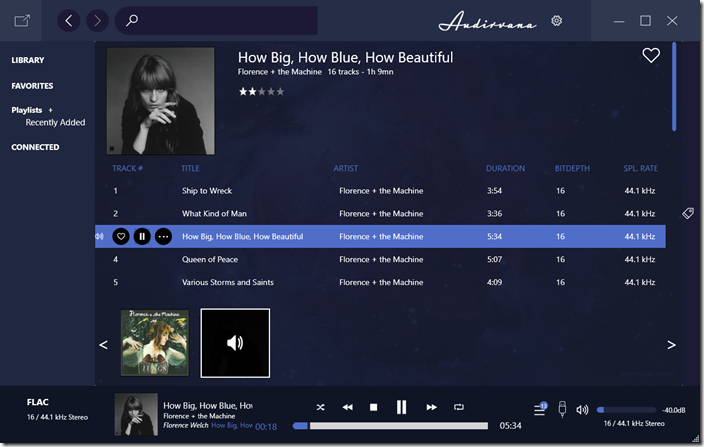 Audirvana was developed in France by Damien Plisson, originally as an open source project (you can still get this here but it has not been updated since 2012). The description there still applies: "No equalizer, no trendy special effects, just the music". Both Mac and Windows come with music players bundled with the operating system – in Apple's case the mighty iTunes – but the issue which Audirvana addresses is that these players are about convenience and features as well as sound quality.
Another problem is that the sound system in a modern operating system is complex and needs to support every kind of application while from the user's perspective it should "just work"; and this can mean compromises, such as resampling or normalizing the audio. This does not matter in most circumstances, but if you want the best possible sound and spend money on high-res downloads or streaming, for example, you want bit-perfect sound.
This perhaps is a good reason not to play music directly from a PC or Mac; but the counter-argument is that using your existing computer reduces the box-count (and expense) of streaming, and that the flexibility and processing power of desktop computer is handy too.
So what does Audirvana offer? The Windows version is still to some extent work in progress and not yet as full-featured as the Mac version; however the developers are promising to add the missing pieces later. However the product is already a capable player with the following key features:
1. Wide range of supported formats including AIFF, WAVE, AAC, MP3, FLAC, Monkey Audio APE, WavPack, Apple Lossless, DSD (DSDIFF including DST compressed, DSF, and SACD ISO images).
DSD support works whether or not you have a DSD DAC. If you have a DSD DAC, you get full native DSD. If you do not, Audirvana will convert to hi-res PCM and it still sounds good. You can control how the DSD is converted in settings, such as the amount of gain to apply (without it, DSD files will sound quiet).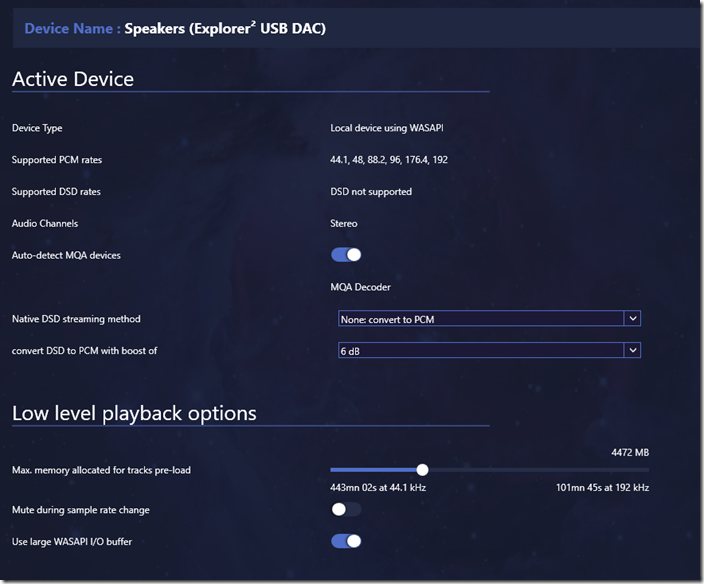 Here is a DSD file playing on a non-DSD DAC:

2. MQA unfolding whether or not you have an MQA DAC. The way this works is similar to DSD. If you have an MQA DAC, the decoding will take place in hardware. If you do not, Audirvana will process the MQA track in software. For example, I have a 16-bit, 44.1 kHz MQA-encoded FLAC that plays in Foobar 2000 as a 16/44 file, downloaded from here. In Audirvana though, the same file claims to be 24-bit/352.8 kHz track.

That resolution is not genuine; but what matters is that MQA decoding is taking place. If the file is played through an MQA-capable DAC like the Meridian Explorer 2, I get a green light indicating MQA decoding on the DAC. If I play the "original resolution" version, I get a blue light indicating "MQA Studio". WASAPI and ASIO support. WASAPI is the native Windows standard which enables bit-perfect output and is aimed at professional audio engineers. ASIO is a standard with similar features developed by Steinberg.
3. A library manager which performs well with large numbers of tracks. I tried it with over 50,000 tracks and it was perfectly responsive. It uses the open source SQLITE database manager.
4. Hi-res streaming via Qobuz, HIRESAUDIO or Tidal. There is no support for the likes of Spotify or Apple Music; I guess these are not the target market because they use lossy compression.
Not available yet, but coming, is a remote app for iOS (iPhone, iPad and iPod Touch), audio effects via VST plugins, and kernel streaming output.
The Audirvana User Interface
Audirvana is delivered as a download though it is a click-once application which means it updates semi-automatically, prompting you to update if an update is available. The user interface is, from the point of view of a Windows user, rather quirky. There is no menu or ribbon, but by clicking around you can find what you need. Some of the settings are accessed by clicking a gearwheel icon, others (such as the per-device options shown in the illustration above) by clicking an arrow to the right of the device name. There is also a compact view, obtained by clicking a symbol at top left, designed for playback once you have lined up the tracks you want.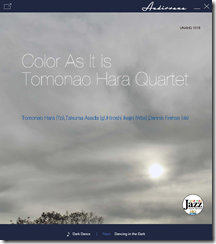 The current version seems unreliable when it comes to showing cover art in the library. Sometimes cover art shows up in the mini view, but not the full view.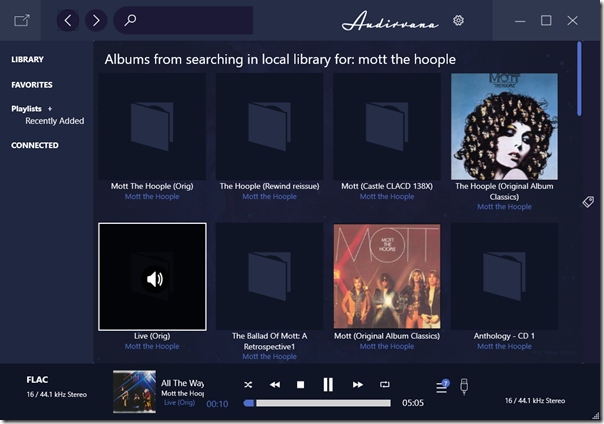 Searching the library is quick, but because the user interface is fairly blocky, you do not see many results on a page. An option just to show details in a list would be good (or perhaps it exists but I have not clicked in the right place yet).
I can forgive all this since despite a few annoyances the user interface is responsive, the search fast, and playback itself works well.
Sound quality
How much impact does the music player have on sound quality? This is difficult to answer definitively. On the one hand, the amount of distortion introduced by a sub-optimal player should be negligible compared to other sources of distortion. On the other hand, if you have gone to the trouble and expense of investing in hi-res downloads, streaming or DSD, it must be worth ensuring that every link in the chain does justice to those sources.
It is true that on Windows, with its enthusiastic technical audiophile community, most of what Audirvana does can be achieved with free players such as Foobar 2000 or VLC. There is also the excellent JRiver as an alternative paid-for player, though this lacks software MQA decoding (appreciating that not everyone likes or needs this).
That said, the uncomplicated user interface of Audirvana Plus is great for audio enthusiasts who would rather not spend too much time fiddling with settings or plugins. Support for the iOS remote app is an unfortunate missing piece at present, and Android users miss out too.
The Windows version needs a bit more work then (I also encounted some unpleasant noises when trying to adjust the volume within the application), but it does enough right to justify its relatively modest cost, and the bugs will fixed. Head over to the Audirvana site for a free trial.