At Microsoft's Build conference last week, one among a number of giveaways to all attendees was a year's subscription to Adobe's Creative Cloud. This was announced by Developer and Platform Evangelism VP Steven Guggenheimer during the day 2 keynote.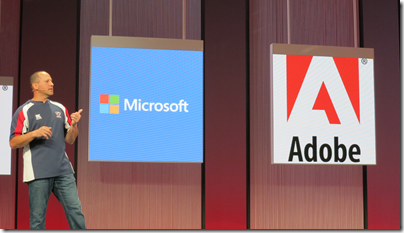 Creative Cloud costs $49.99 (or £39 + VAT) per month for an individual subscription.
Guggenheimer in effect said that the gift came from Adobe; he suggested that "you guys should send them a nice email".
The stated purpose of the giveaway is to promote the Digital Publishing Suite (DPS). Creative Cloud comes with DPS Single Edition, which lets you create rich, interactive magazine content and publish it to the iPad and Android. Announced at Build was DPS support for Windows 8.1 in "late 2013"; a sign if nothing else that Adobe is taking Microsoft's tablet platform seriously.
The odd aspect though is that Build is a developer conference and not quite the right target audience for DPS. On the other hand, there are numerous tools in Creative Cloud that are well suited to developers, including the Edge web content tools, PhoneGap Build, and of course the mighty Photoshop for image editing.
Adobe's Adam Lehman was interviewed at Build about the Creative Cloud tools, especially Edge, here.
Microsoft is no longer trying to compete with Adobe on design tools. Expression Web and Expression Design have been discontinued. The Flash versus Silverlight wars are also consigned to history, making it easier for these two companies to work together.