A new Community Edition of Delphi and C++Builder, visual development tools for Windows, Mac, Android and iOS, has been released by Embarcadero.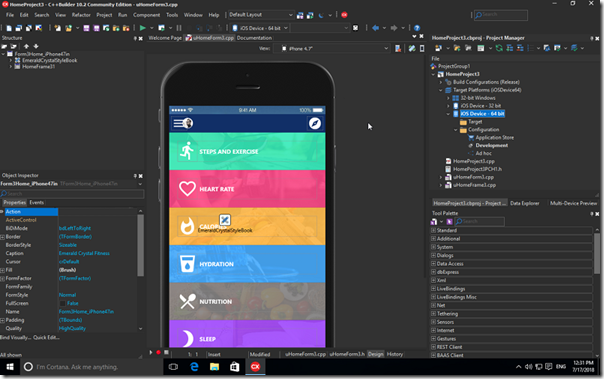 The tools are licensed for non-commercial use or for commercial use (for up to 5 developers) where revenue is less than $5000 per year. It is not totally clear to me, but I believe this means the total revenue (or for non-profits, donations) of the individual or organisation, not just the revenue generated by Community Edition applications. From the EULA:
The Community Edition license applies solely if Licensee cumulative annual revenue (of the for-profit organization, the government entity or the individual developer) or any donations (of the non-profit organization) does not exceed USD $5,000.00 (or the equivalent in other currencies) (the "Threshold"). If Licensee is an individual developer, the revenue of all contract work performed by developer in one calendar year may not exceed the Threshold (whether or not the Community Edition is used for all projects).
Otherwise, the Community Editions are broadly similar to the Professional Editions of these tools. Note that even the Professional Edition lacks database drivers other than for local or embedded databases so this is a key differentiator in favour of the Architect or Enterprise editions.
An annoyance is that you cannot install both Delphi and C++ Builder Community Editions on the same PC. For this you need RAD Studio which has no Community Edition.
Delphi and C++ Builder are amazing tools for Windows desktop development, with a compiler that generates fast native code. For cross-platform there is more competition, not least from Microsoft's Xamarin tools, but the ability to share code across multiple platforms has a powerful attraction.
Get Delphi Community Edition here and C++Builder Community Edition here.