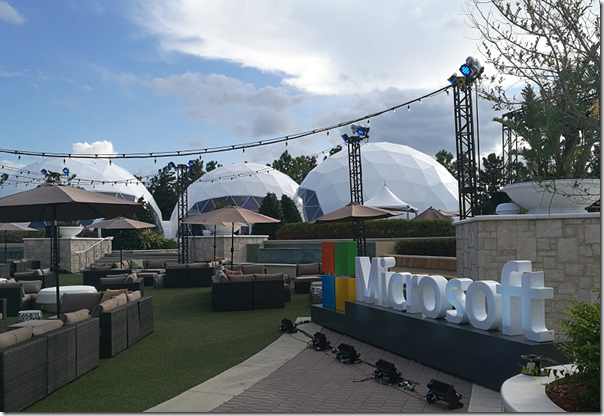 Microsoft has futuristic domes as part of its Envision event, running alongside Ignite here in Orlando. Ignite is the company's main technical event of the year, focusing mainly on IT Pros but embracing pretty much the whole spectrum of Microsoft's products and services (maybe not much Xbox!). With the decline of the PC and retreat from mobile, and a server guy at the helm, the company's focus has shifted towards cloud and enterprise, making Ignite all the more important.
This year sees around 25-30,000 attendees according to a quick estimate from one of the PRs here; a little bigger than last year's event in Atlanta.
Microsoft will present itself as an innovative company doing great things in the cloud but the truth is more complex, much though I respect the extent to which the business has been transformed. This is a company with a huge amount of legacy technology, designed for a previous era, and its challenge has been, and still is, how to make that a springboard for moving to a new way of working as opposed to a selling opportunity for cloud-born competitors, primarily Amazon Web Services (AWS) and Google, but also the likes of Salesforce and Dropbox.
If there is one product that has saved Microsoft, it is probably Exchange, always a solid email server and basic collaboration tool. Hosted Exchange is the heart of Office 365 (and BPOS before it), making it an easy sell to numerous businesses already equipped with Office and Outlook. Email servers are horrible things to manage, so hosted has great appeal, and it has driven huge uptake. A side-effect is that it has kept customers using Office and to some extent Windows. A further side-effect is that it has migrated businesses onto Azure Active Directory, the directory behind Exchange Online.
Alongside Office 365, the Azure cloud has matured into a credible competitor to AWS. There are still shortcomings (a few of which you can expect to be addressed by announcements here at Ignite), but it works, providing the company with the opportunity to upsell customers from users of cloud infrastructure to consumers of cloud services, such as Azure IoT, a suite of tools for gathering and analysing data.
The weakness of Microsoft's cloud efforts has been the moving parts between hosted services and Windows PCs, and legacy pieces that do not work as you would expect.  OneDrive has been a persistent annoyance, with issues over reliable document sync and limitations over things like the number of documents in a folder and the total length of a path. And where are my Exchange Public Folders, or any shared folders, in Outlook for IoS and Android? And why does a PC installation of Office now and again collapse with activation or other issues, so that the only solution is removal and reinstall?
At Ignite we will not hear of such things. Instead, Microsoft will be presenting its vision of AI-informed business collaboration. Think "Facebook of business", powered by the "Microsoft graph", the sum of data held on each user and their files and activity, now combined with LinkedIn. The possibilities for better-informed business activity, and systems that know what you need before you ask, are enticing. Open questions are how well it will work, and old issues of privacy and surveillance.
Such things also can only work if businesses do in fact commit more of their data to Microsoft's cloud. The business case for this is by no means as simple as the company would have us think.