The Turtle Beach Z300 is a super flexible gaming headset, with wired and wireless connections, Dolby 7.1 virtual surround sound, and extra features like switchable dynamic range compression. It is primarily for PC gaming, but also works with Mac (no Dolby surround) and with any Bluetooth-compatible device – which means almost any smartphone or tablet. You can also use the wire to plug it into any device with a 3.5mm audio jack.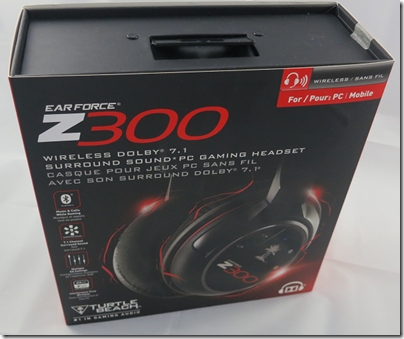 In the box you get the headset, detachable microphone, USB cable, jack cable, USB transceiver, and some documents including a note about having to download the Dolby 7.1 drivers. I still recommend downloading the online manual, which is more detailed than anything in the box.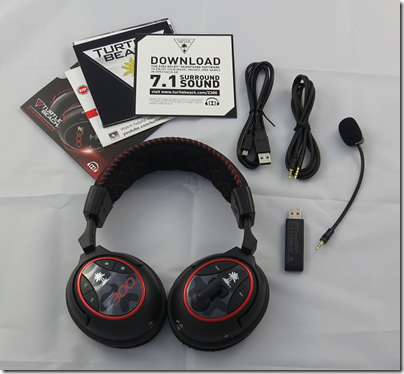 A few more details on the three ways to connect:
Wireless via a USB transceiver. This is the preferred method for a PC. The USB transceiver is pre-paired and indicates via an LED whether or not the headset is connected.
Traditional wire. A jack cable is supplied which connects to the left earcup and has a standard four-way 3.5mm jack on the other end, suitable for a phone or tablet. In wired mode you still need to charge the headset and have it powered on.
Bluetooth. You can pair with up to two devices. The right earcup has Bluetooth volume controls, and a Bluetooth button for answering, rejecting and ending calls.
The actual headset seems sturdily made and features a fabric-covered headband and earpads. The material feels slightly coarse at first, and the earcups are slightly on the small side, but in practice I found the comfort reasonable.
The microphone is on a flexible boom and is detachable. You can also swing it up above the left earcup to get it out of the way.
You charge the Z300 via a mini USB port on the right earcup, which annoyingly is the old type, not the slightly smaller one now found on most phones and tablets. A cable is supplied, though it is too short to reach from the floor to your headset if you are wearing it, and in my case too short even to reach from the front panel of my PC. You might want to get a longer cable if you expect to charge while wearing. Play time is specified at 15 hours.
An annoyance: there is no indication of remaining charge.
How about the other controls? There are several:
Power on/off on the left earcup and easy to find by feel. The headset automatically powers off after 5 minutes of inactivity.
Master volume on left earcup.
Mic monitor volume on left earcup. This controls how much sound from the mic is fed back to your. It does not affect the volume heard on the other side.
Tone on left earcup: cycles through 4 "game modes". These are Flat, Bass boost, Treble boost, and Bass and Treble boost. I generally used the Flat mode for this review.
Dynamic Range Compression on left earcup: raises the volume of quiet sounds. The effect seems minimal to me.
Bluetooth controls on right earcup: as mentioned above.
If you use the USB transceiver and a Windows PC you can insteall a Dolby 7.1 driver. Note: these are stereo headphones, but when used with this driver they support Dolby's virtual surround system. You enable this by going into the Windows sound properties dialog (eg right-click the speaker icon and choose Playback Devices), then showing the properties dialog for the Turtle Beach speakers. A surround sound tab then lets you enable "Dolby Headphone". You can also choose between two modes: Music or Movie.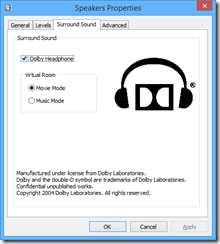 Enabling Dolby Headphone makes a substantial difference to the sound. It is distinctly louder, and the sound seems to fill out more. On games with true surround sound, the virtual sound should mean that you get spatial clues about the source of an explosion or footstep, for example, though you need to make sure the game is set to output in surround sound.
I tried this and reckon it works a bit. It is not as good as a headset I tried that really did have multiple speakers. My big gripe though is that if you enable Dolby Headphone, it messes up true stereo, for example on music. You no longer hear the mix as intended.
This would not matter too much if it were easy to switch Dolby Headphone on and off, but it is a hassle to go into Windows sound controls every time. I would like to see more effort go into usability.
How about the sound quality? Here is my second big gripe about this headset. The sound is not great, with anaemic bass and a nothing special in the mid-range or treble. For gaming it is not too bad, and I did find the audio atmospheric if you can live without much bass thunder, but for music they are not good enough.
The microphone quality is fine. I tried the headset with Dragon Dictate, just to check the quality, and got high accuracy of transcription which is a good sign.
In summary, the flexibility is exceptional, the build quality is fine, but the sound is lacking. Personally I would not use these as my main headset because I do both gaming and music listening; but if your main use is gaming they would be OK.
Price is around $170 or £170 (better value in the USA it seems).